Things to do in Rothbury, Northumberland
The Ancient market town of Rothbury, on the River Coquet can trace its origins back to c.1100. In the surrounding hills there is evidence of much earlier Bronze Age settlements, hill forts and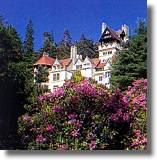 cup and ring marks. Today all that remains of pre-conquest times is a carved Saxon cross which forms part of a pedestal of the font in the Parish Church.
Visit
Cragside
House
and grounds, the 1,000 acre estate offers over 40 miles of paths for walking, a visitor centre and lake.
The house was the first house in the world to be lit by hydro-electricity.
Share this page