Things to do in Rodney Stoke, Somerset
St Leonards © Rod Morris
The village of Rodney Stoke is to be found some three miles East of Cheddar and 4 miles West of Wells either side of the A371 nestling on the higher ground between the Mendip Hills and the Somerset Levels. The Domesday Book recorded the village as Stoke Gifford, but the Manorial rights passed in marriage to the Rodney family in the 13th Century. The most famous of the Rodney dynasty was an Admiral in Nelson's Fleet. The Elizabethan gatehouse to their home is to be found opposite the Parish Church.
Renowned for its strawberries, asparagus and soft fruit (plum trees originating in the village are widely cultivated in California), the village is very much based in farming, with more farm names than road names to be found in the telephone directory. The old 'Strawberry Line' railway runs through the village but was closed under the Beeching cuts of the early 1960s.
Rodney Stoke is one of the 49 'Thankful Villages' in Britain - those that suffered no fatalities in the Great War 1914-1918. The author Arthur Mee, who visited all the Thankful Villages in England, wrote "nowhere else have we found the spirit of thankfulness expressed as in a lovely window here, the work of Mr William Aikman".
The window is in the historic Parish Church of St Leonard and on the wall inside the Church is the roll of honour listing the names of the 17 men and 4 women who went to the Great War and returned. At the centre of the window is Saint Leonard, the Patron Saint of Prisoners of War (and of Expectant Mothers), with Jesus and Abraham together with the words in stained glass: "All Glory be to God who in his Tender mercy has brought again to their homes the men and women of Rodney Stoke who took part in the Great War".
The people of Rodney Stoke are intensely proud of their village, church and heritage and a warm welcome awaits any visitor to this idyllic Somerset 'Thankful Village'.
Description by Rod Morris
Share this page




Images of Rodney Stoke
Rodney Stoke © Rod Morris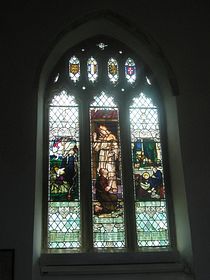 Memorial Window © Rod Morris