Things to do in Ripon, Northumberland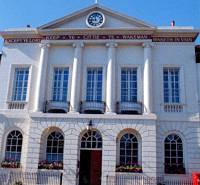 The Cathedral City of Ripon is to be found in the beautiful Yorkshire countryside with the ruins of Fountains Abbey, one of the most historic sites in Europe, lying just outside its boundaries. The weekly market brings a blaze of colour to the market place, which in turn provides the focal point of the city. Standing in the centre is the 18th century obelisk, which is surrounded by
a cluster of Georgian and medieval buildings. The distinctive half-timbered Wakeman's House and elegant Town Hall are of particular interest.
For over 1300 years, people have been coming to worship and pray at Ripon and the cathedral is truly spectacular, offering many fascinating links with the past. At the heart of the Cathedral lies St. Wilfrid's Saxon crypt; other notable features include the art nouveau pulpit, 15th century
choir stalls and the medieval screen. Evidence of the author Lewis Carroll's connection with Ripon can also be detected within the cathedral. Echos of the Alice books include a carved rabbit disappearing down a hole, pursued by a griffin!
The recent restoration and re-opening of the Ripon canal and basin now makes this the most northern point in the connected waterway system of England and Wales. The newly
created marina area is an attractive addition to this City, which is undergoing an exciting period of regeneration.
Against the onset of change, many old traditions remain intact. The Ripon Hornblower appears each night at 9.00pm to sound his horn at the four corners of the obelisk in the centre of the market place. Known as 'setting the watch', this ritual originally assured Ripon's citizens of their safety for
the night - and has continued without a break for over 1100 years.
St. Wilfrid's Procession takes place in August to celebrate the safe homecoming of the Saint from his exile in 686 AD. At this time the streets fill with a cavalcade of floats which culminate in a special service at the Cathedral.
The Police and Prison Museum, in St. Mary's Gate, houses an absorbing collection of exhibits that illustrate
the history off the maintenance of law and order in the city. The city's newest museum dedicated to the Yorkshire Poor Law is housed in the 1877 Ripon Workhouse in Allhallowgate.
The pleasant surroundings at Ripon Racecourse have earned it the name, 'Yorkshire's Garden Racecourse'. The floral Spa Gardens are well worth a visit and feature an elegant Victorian bandstand. Nearby there are tennis courts and swimming facilities at the adjacent Ripon Spa baths.
Share this page