Things to do in Lyonshall, Herefordshire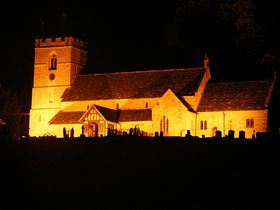 Floodlit Church © Chris H.E. Smith
Lyonshall is a large parish in north-west Herefordshire, close to the Welsh border town of Kington. It has a population of some 750 people in around 280 dwellings - most of which are clustered around the village centre near the Royal George Inn which was built in '600.
Lyonshall boasts an ''th century castle, a fine church, a well-preserved length of Offa's Dyke and a clearly visible site of a now-abandoned medieval village. As well as this earlier historical heritage it is crossed by the route of a horse-drawn tramway, which operated from '820 to '860 before being overtaken by the railway. Stone sleepers are clearly visible along the tramway's route as it winds through a medieval deer park on its way between Kington and nearby Eardisley.
The line of the railways - now no longer in use - can clearly be seen as they cross the parish, and in the north of the parish at Titley Junction Station runs the longest privately-owned steam railway in Herefordshire. This is a haven for steam enthusiasts, and the haunting sound of the whistle can be heard all over the parish.
Description by Chris Smith
Share this page




Images of Lyonshall
Lyonshall's Moated Castle © Chris H.E. Smith
Hunting in Lyonshall Parish © Chris H.E. Smith
The Royal George, Lyonshall © Chris H.E. Smith
The Old Baptist Chapel, Lyonshall © Chris H.E. Smith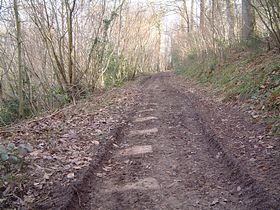 Horse Drawn Tramway, with Stone Sleepers © Chris H.E. Smith