Things to do in Ludlow, Shropshire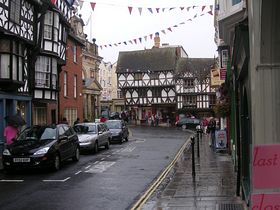 View of Ludlow © Peter Shortall
Medieval Ludlow - Capital of the Marches - Ludlow is often called the 'perfect historic Town'. The castle is perched high on a cliff above the picturesque River Teme and breathes history at every turn.
The town centre's ordered elegance is evidence of the 900 year old Norman planned town. Take time to explore the nooks and crannies of this ancient town on foot. Many of Ludlow's architectural gems, including splendid St. Laurence's church with its soaring tower, are hidden away in the courts and back lanes.
The market tradition lives on here - bringing life and colour to the square at the castle gates. Lovers of antiques will have a field day in the town's shops, many browse the antiquarian book shops and art galleries. Shakespeare comes alive in the summer when the castle plays host to the annual Ludlow Festival.
Ludlow has found renewed fame as the place outside London, with the most Michelin starred restaurants; it was described recently as 'the most vibrant small town in the country' by Country Life, another superlative to match the Michelin stars.
Share this page




Images of Ludlow
Ludlow Castle © Peter Shortall