Things to do in Barry, South Wales
Barry Island beach[Nell's Point in the background] © Philip Cookson
In the late 18 hundreds, Barry (South Wales) only had three small villages and a few farms in three parishes - Barry, Merthyr Dyfan and Cadoxton.
The population in 1881 was 85 in the village of Barry, and 403 in Cadoxton.
By the 1920s the population of Barry was around 40,000 - a figure that changed little over the rest of the century.
With the building of the docks in the 1890s, there followed an explosion of development and population.
Within 30 years the port and railway of Barry were world-famous for the export of coal.
Thirty years later the coal industry had collapsed, and Barry had to find a new identity in post-war Britain.
Cynics say we are still looking! As much of the town was built during the expansion of the docks, most of it has grown old at the same time.
Having lost the heavy industry on which the docks and the town was founded, Barry needs to pursue a new route - based upon newer and lighter industries, leisure, service and tourism.
Barry has much to offer. It enjoys panoramic views of the Bristol Channel, and is close to the rural Vale.
It is close enough to Cardiff to enjoy the resources of the city, but without the disadvantages of having to live in the city.
It is large enough to provide its residents with many facilities lacking in smaller communities.
Description by chantal
Share this page




Images of Barry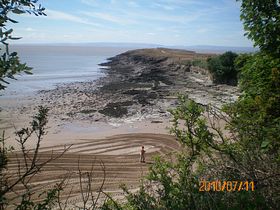 Whitmore bay and Friars Point © Philip Cookson
Colourful wild flower's on Nell's Point © Philip Cookson
Barry island from Friars Point © Philip Cookson
Cold Knap from Friars Point © Philip Cookson
Barry Island amusement centre[where Nessa works in Gavin and Stacey] © Philip Cookson
Whitmore beach, Barry Island © Philip Cookson