Things to do in Anglesey
The Isle of Anglesey is situated off the north west corner of Wales, separated from the mainland by the Menai Strait. Its Welsh name, 'Mon Mam Cymru', means 'Anglesey the Mother of Wales'.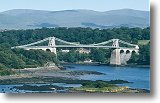 Anglesey is connected to Wales by two bridges - the Menai Suspension Bridge and the Britannia Bridge. The Menai Suspension Bridge was built by Thomas Telford in 1826 and is now the A5 road link. Britannia Bridge was built in 1850 by Robert Stephenson as a railway bridge to Holyhead on the west coast of Anglesey. Following a fire in 1970, the bridge was rebuilt and now encompasses the railway line and, on an upper level, the A55 road link. Anglesey Tourist Information Centres can be found in the east at Llanfairpwllgwyngyll - ideally situated for visitors from the mainland - and on the west coast at Terminal 1, Holyhead.
The Isle of Anglesey is some 25 miles across and has a coastline of over 120 miles. The coastline was designated an Area of Outstanding Natural Beauty in 1966. There are sea cliffs along the coast, together with sheltered coves, such as Porth Swtan, Moelfre, Cable Bay and Porth Cwyfan. There are also long sandy beaches at Llanddwyn, Red Wharf Bay, Benlech and Cemaes. For active water sports fans, the beaches at Rhosneigr, Beaumaris and Holyhead are those to visit. The Isle of Anglesey Coastal Path covers over 125 miles. The official starting point is at St Cybi's Church, Holyhead but as the path connects with many towns and villages it is also well suited to shorter walks and cycle rides.
Anglesey's clean environment and mild climate make it an ideal habitat for the abundant wild flowers and plants which grow on the island. It's a Mecca for nature lovers and birdwatchers who come to see breeding colonies of puffins, guillemots, razorbills, terns and cormorants. There are seal colonies along the rocky coastline and - if you're lucky - you may even spot dolphins. The clean waters around the coast offer anglers a rich variety of fish to catch and inland there are several quiet lakes to choose from, not least Llyn Alaw - one of the most productive in Wales. Anglesey holds an annual Oyster and Shellfish Festival in October.
Anglesey Tourism often commences in Llanfairpwllgwyngyllgogerychwyrndrobwllllantysiliogogogoch (English translation 'The Church of St Mary in the hollow of the white hazel near the rapid whirlpool and the church of St Tysillo near a red cave'). This famous placename is often shortened to Llanfairpwll or Llanfair P.G. so those of a less linguistically-adventurous nature have nothing to worry about! This village is famous throughout the world, not only for its long name, but also as the town where the Woman's Institute movement (the W.I.), was founded in Britain in 1915.
The nearby town of Beaumaris is famous for its 13th century castle, Beaumaris Castle. This is a World Heritage site and was the last in the 'iron ring' of castles Edward I built round the north Wales coast. Beaumaris is an attractive town with interesting historic buildings such as the parish church of St Mary and St Nicholas, the 17th century Court House and Victorian terraces designed by Joseph Hansom - inventor of the Hansom Cab. The town has a good selection of shops and restaurants and is home to various attractions.
Anglesey contains a wide variety of attractions from ancient to modern. There's TracMon - The Anglesey Race Circuit - at one end of the spectrum to name and ancient burial grounds at the other. To name but a few from across this spread, you will find ancient standing stones and burial chambers, historic buildings, the ancient copper mine of Parys Mountain, Seawatch Centre at Moelfre, South Stack Lighthouse, Ellin's Tower Sea Bird Centre, Anglesey Model Village and Plas Newydd - home of the Marquess of Anglesey, which is open to visitors.
Days out in Anglesey
Beaumaris Castle

Beaumaris is a great, unfinished masterpiece. It was built as one of the North Wales "iron ring" of castles by the English Monarch, Edward 1, to stamp his authority on the Welsh, but it was never finished.

Museum of Childhood Memories

The Museum of Childhood Memories in Beaumaris has now closed. This article details other museums of childhood in Britain that you might be interested in visiting.

Plas Newydd Country House and Gardens

Plas Newydd, the ancestral home of the Marquess of Anglesey bears witness to the turbulent history of the family; their noble beginnings during the time of Henry VIII
Places to Visit in Anglesey
Bangor

Bangor, with its 6th century cathedral, is one of Britain's smallest cities with a population of less than 14,000 people. However, its numbers swell during term time as Bangor University accommodates around 10,000 students.

Holyhead

Holyhead, pronounced Holly-head, is the largest town on Holy Island, just off the island of Anglesey in North Wales.

Llanddona

Llanddona nestles at the southern end of Red Wharf Bay on Anglesey and is divided into an upper and lower village.