Newport Roman Villa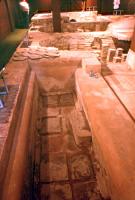 The Villa was discovered in 1926 when an owner of a nearby house sank foundations for a garage. Subsequent excavations revealed extensive remains of a late Romano-British farmhouse built around 280 AD. Villa is the Latin word meaning farmstead and the building would have been the centre of a wealthy estate.
The remnants of Newport Roman Villa pay tribute to the Romans' reputation as fine designers and engineers. Remains of the hypocaust or underfloor heating system illustrate how cosy the Villa's inhabitants would have been during the cold, damp British winter.
The intricacies of Roman bath time can be also be seen in one of the best preserved domestic bath suites in Britain. Remains of cold and hot baths, sauna and massage rooms indicates how the Romans loved to be pampered just as we do today.
Reconstructed rooms based on the latest archaeological evidence show what life may have been like 1,700 years ago. The Romans were notorious lovers of good food and drink and the kitchen and dining rooms reveal that a "Convivium" would have been as sumptuous as bath time.
A charming reconstructed Roman style garden provides an insight into a wealth of plants brought to Britain by the Romans including sage, rosemary and stinging nettles.
General Information:
Illustrated text panels providing a clear explanation of the site
An exhibition of artefacts charting the history of the Roman Occupation of the Isle of Wight
A quiz booklet for younger visitors
A shop selling gifts, postcards and books on Roman and local archaeology.
Share this article




Directions
Newport Roman Villa Postcode for SatNav: PO30 1HA
Contact
Tel:

+44 (0)1983 529 720
+44 (0)1983 823 828(group bookings)

Email:

Web: