Izaak Walton's Cottage
Izaak Walton was born in Stafford in 1593, the son of an alehouse keeper. Although for most of his life he lived in London, Worcester and Winchester, he retained a fond regard for this area.
He is best remembered for writing the 'The Compleat Angler' which was completed in 1653. The following year he bought the Halfhead Estate which included the cottage.
He was also known for his biographies of several senior churchmen, notably John Donne. When he died in 1683 he bequeathed the cottage to the Corporation of Stafford for charitable use.
Izaak Walton is buried in Winchester Cathedral.
This cottage is a typical mid-Staffordshire example probably built in the 16th
century. It is timber-framed with wattle and daub infill, later modified in part with brick.
It was rented to a series of tenants until 1923 when the Izaak Walton Trust bought it. In 1927 and again in 1938 fires caused serious damage to the building. It was rebuilt with a tile roof.
Stafford Borough Council became trustees in 1956 and in 1990 it was rethatched and refurbished. New displays and additions to the collections have helped the Cottage to become fully registered as a museum by the Museums and Galleries Commission.
'The Compleat Angler' remains the greatest classic of angling literature and is a 'unique celebration of the English countryside'.
Although published by Walton in 1653, a section was added by his friend Charles Cotton in 1676. The book gives sound advice on the catching and cooking of fish. Its style reflects an idyllic rural England which, even if it was true in the 17th century, has perhaps been lost for ever.
Both keen anglers and those who have not tried this pastime will enjoy the variety of fishing collections on display in the Cottage.
The range of materials used and the quality of the craftsmanship make this exhibition an important part of a visit. The reading room contains a small angling library including the very first edition of 'The Compleat Angler'.
Visitors can also enjoy a video about Izaak Walton and his cottage.
Access to the cottage is difficult for disabled visitors, particularly wheelchair users. The guides will help as much possible.
Share this article




More Pictures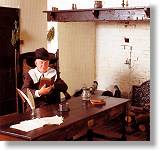 Directions
From Stafford take the A5013 Eccleshall Road. North of Great Bridgeford, turn right to Shallowford. The cottage is a mile further on the left hand side.
Izaak Walton's Cottage Postcode for SatNav: ST15 0PA
Contact
Tel:

+44 (0)1785 760 278

Email: