Dawlish Museum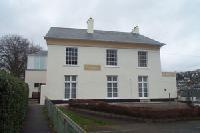 Knowle House was built as a gentleman's residence in 1805. It now houses various collections donated by the people of Dawlish. These collections include victoriana, militaria, local industries and crafts.

The major displays cover Victorian Room settings, Militaria, Toys and Local Industry. The museum holds the collection of Chapman's postcards and photos of the early 20th century taken by a local business man.

For over 40 years Dawlish Museum has become the must-see attraction in this beautiful seaside town. The bagpipes famously played by Piper Bill Millin on Sword Beach during the D-Day Landings are a main feature. This year the Dawlish Dog Training School who sponsored some 60 Guide Dogs for the Blind also have an exhibition. There is also the State Coach beautifully made by the late Mr Allan Walker of Dawlish which is correct in every details, an obvious labour of love. There is also a display commemorating the centenary of the Girl Guides.

We have 11 galleries of three floors, children are particularly drawn to the Dolls House Room. There is also the education room which is available for use by school groups, societies etc.

General Information:

Wheelchair access to ground floor, stair lift to first floor

Video coverage of upper floors available

Toilets

Parking

Directions
Dawlish is on the A379 between Exeter and Torbay.
Dawlish Museum Postcode for SatNav: EX7 9QH
Contact
Tel:

+44 (0)1626 888 557

Email:

Web: