Things to do in Stamford, Lincolnshire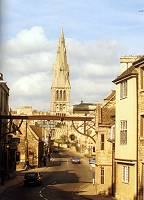 Stamford "the finest scene between London and Edinburgh" (Sir Walter Scott). The town still retains its medieval street pattern making an attractive mix of narrow passageways and cobbled streets opening into more spacious squares. Five medieval churches, a twelfth century priory and a fifteenth century hospital jostle with other fine medieval and Georgian buildings in the town.
Perhaps Stamford's most remarkable aspect is the completeness of its architecture. Many streets and
squares simply have no Victorian buildings, let alone those of the 20th century. It was of course this quality that attracted the BBC to use Stamford as a set for its costume drama "Middlemarch". Once the road signs, street lights and aerials had been removed actors could be filmed walking the streets of Georgian Stamford uninterrupted by the modern street scene.
Burghley House - The "palace in the park" -
the grandest house of the Elizabethan age, a fabulous stately home filled with treasures, located in a beautiful Deer Park landscaped by capability Brown.
Stamford Museum - interpretation of the history of Stamford, here you can meet Tom Thumb, and Daniel Lambert, the smallest and largest of men.
Browne's Hospital - ancient almshouses founded in 1483.
St. Mary - dating from the 13th century. St. Mary has a spectacular spire and is
regarded as the mother church of Stamford.
St. Martin - erected in 1430, entirely of late perpendicular style.
All Saints - an imposing13th century church extensively rebuilt in the 15th century.
St. John - 15th century and built all of one piece, Lincolnshire style screenwork and angel carvings in the roof.
St. George - largely 14th century.
St. Leonard's Priory - Monks founded the Priory in the early 12th century, a fine example of Norman architecture.
Share this page