Things to do in St. Albans, Hertfordshire
St Albans has been welcoming visitors from far afield for 2000 years. First built as Verulamium by the Romans, the city was renamed St. Albans after the first British Christian martyr. Today, the Roman heritage and imposing cathedral attract many visitors throughout the year. A visit to St. Albans offers so much; excellent shopping, a range of evening entertainment, an annual events programme, and a multitude of pubs and restaurants as well as many hotels and guesthouses. Within easy access from
the motorway network and just half an hour from London, come and discover St. Albans for yourself.
St. Albans is Hertfordshire's oldest town, a modern city shaped by over 2,000 years of human occupation and activity. The city is named after St. Alban, Britain's first Christian martyr, a citizen of the Roman town of Verulamium, who was executed for his beliefs in the third century AD. After the Roman conquest of Britain in AD43, the town became one of the largest towns in Roman
Britain. After the departure of the Romans, St. Albans grew up around the precincts of the Monastery founded in AD 900 - 950 by the Abbot Ulsinus, the acknowledged founder of St. Albans. Today you can still see in the fine Norman Abbey tower the Roman bricks removed from Verulamium.
The magnificent Abbey Church dominates the city's skyline on every main approach. A blend of many periods, the bricks used by the Romans in the building of Verulamium are included in the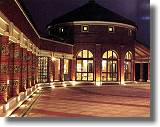 tower. The Abbey Gateway built in 1365, used for many years as a prison, it now forms part of St. Albans School. The Clock tower was built between 1403 and 1412 and is now one of only two medieval town belfries in England. Giving fine views of the Abbey, Roman Verulamium and the city, the tower with its fine bell has survived almost 600 years of use.
Museums and Attractions.
There is much to see and do in and around St. Albans, you can
discover the life and times of a major Roman city at The
Verulamium Museum
, which features magnificent mosaics and recreated rooms. There are touch screen databases, hands-on discovery areas and hundreds of remarkable objects. Visit the Museum of St. Albans to learn the story of the city, or enjoy a visit to the Organ Museum. Nearby is The de Havilland Aircraft Heritage Museum, or delight in the Gardens of the Rose the flagship gardens of the Royal National Rose Society. Children
and adults alike will enjoy a visit to Bowmans Open Farm, where you can meet animals in Pets Corner or enjoy the flying displays of the Falconry Centre.
Out and About
Beyond the city of St. Albans there is plenty to explore. A wealth of villages offering good pubs, beautiful walks, historic churches and more modern attractions.
Further afield, just a few miles away from St. Albans, are other attractions and stately homes, including Hatfield House, Knebworth and Shaws Corner at Ayot St. Lawrence, once home of George Bernard Shaw.
Share this page




Directions
Travelling to St. Albans could not be easier….
By rail, just 30 minutes from London, St. Albans is served by the Thames link service through central London from the South Coast and Gatwick, to Luton and Bedford. The Silverlink service via Watford connects St. Albans with the main West Coast line from London Euston to Scotland.
By road, close to the M1, and M25, St. Albans is accessible from all parts of the UK.

By bus and coach, on the local bus network, St. Albans is well connected including services from North London, Welwyn Garden City and Hatfield, Luton and Watford. The green Line service links St. Albans with Heathrow and West London through to Harlow in Essex. Bt air, both Luton and Stansted airports are close by, with flights from many European cities and connections to the rest of the world. London Gatwick and Heathrow are also easily accessible from St. Albans.

For Information contact Hertfordshire Traveline (0345) 244 344 (Within UK Only)