Things to do in Keswick, Cumbria
Keswick is situated in the picturesque northern region of the Lake District. Lying on the banks of the River Greta and on the north shore of Derwent Water, famed for its salmon and trout and regarded by many as one of the most beautiful and unspoiled lakes.
Derwent Water is the lake in the Beatrix Potter story 'The Tale of Squirrel Nutkin', the lake which Nutkin sailed across on a raft, using his tail for a sail, when he went in search of nuts. Keswick is set in a majestic landscape dominated by high fells, where according to Arthurian legend Sir Gawain found the green knight.
Keswick is an attractive town with narrow streets and buildings of the local grey stone. The marketplace has an interesting town hall known as Moot Hall. Markets have been held here since Keswick was granted its charter by Edward I in 1276, and still take place every Saturday. You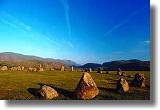 will find lots of interest with traders selling local delicacies such as Cumberland Sausage; this delicious sausage is about a foot long and is sold in rings.
Keswick was known for wool and leather until 1500 when graphite was discovered in nearby Borrowdale and Keswick became an important pencil-making town. The Cumberland Pencil Museum is an interesting place to visit, where you can learn about graphite, its early uses and the story of pencil making.
The Lake District with its inspiring scenery has always been a favourite place of poets writers and artists. Keswick was the home of Coleridge from 1800-1803 and of Southey from 1803-1843. The Wordsworths, who were resident in Grasmere, were frequent visitors. Southey is buried at Crosthwaite Church, his memorial inside written by Wordsworth can still be seen.
The Fitz Park Museum contains a remarkable collection of curios, as well as many original manuscripts by
Wordsworth and Southey. Mirehouse on the shores of nearby Bassenthwaite Lake, is the 17th century home of the Spedding family and also has paintings and manuscripts of Tennyson, Southey and Wordsworth. Both are open to the public April to October. Sir Walter Scott, Tennyson, R. L. Stevenson and Wordsworth all visited the Royal Oak Hotel in Keswick.
Just south of Keswick is the road leading to Watendlath. Set in green fields, high dark hills and the waters of a tarn, this was the setting Hugh Walpole used for his classic novel Judith Paris.
Two miles east of Keswick is Castlerigg stone circle, thought to have been a place of worship used by the Druids, some four-five thousand years ago. Thirty-eight stones, the largest almost eight feet tall, stand in a circle one hundred feet in diameter, a further ten blocks make up a rectangular enclosure within.
Tourist Information
Moot Hall
Market Square
Keswick
CA12 5JR
Tel: +44 (0) 1768 72 645
Share this page