Things to do in Clare, Suffolk




Clare is a small market town; important in earlier times because of its position at the head of the River Stour, then gateway to East Anglia - and its 'clear' water, hence its name, Clare. There is much to interest the visitor including the 13th-15th century church, Country Park, restaurants, shops and old station buildings.
Share this page




Images of Clare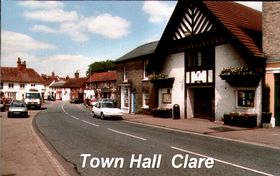 * Distances shown are in a direct line. Distances by road will be longer.