Things to do in Maryport, Cumbria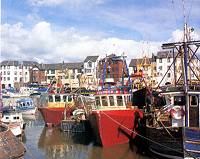 Visit Maryport, on the Solway Coast a lively town and celebrate 2000 years of the sea! An 18th century planned town, set on a cliff above the Solway. It was also an important Roman seaport. The village of Maryport was developed by Humphrey Stenhouse in the 18th century into a coal port and named after his wife Mary.
Maryport is an interesting town with lots of narrow
streets to explore and discover the site of a Roman Fort, Georgian buildings, Victorian docks and fascinating links with the ill-fated Titanic and Fletcher Christian of 'Mutiny on the Bounty' fame at the Maryport Maritime Museum.
Maryport boasts a first-class marina, interesting shops and with its abundance of exciting attractions including the popular Aquarium, Maritime Museum, Lakeland Studios and the Senhouse Roman Museum, the town promises to be a great family day out.
Share this page