Things to do in Crowle, Worcestershire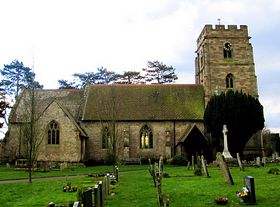 St. John The Baptist Church, Crowle © Ian Rodgers
The parish of Crowle comprises three quite distinct settlements: Crowle itself, Crowle Green and a part of Sale Green hamlet. Geographically Crowle lies on the top of a hill known locally as Crowle Bank and situated about 5 miles due east of the centre of Worcester. It has an area of approximately 900 hectares most of which is predominantly agricultural and woodland.
The place name has Saxon origins, Croh is a Saxon word for crocus and, in the Charter of AD 846, there are references to 'where the saffron or crocus grows'.
A medieval village was established to the north west of the present parish church, around Crowle Court. Over the ensuing centuries, the settlement developed along two axes - Church Road and School Lane. Only ruins now remain of the medieval core of Crowle but there are several fine sixteenth century black and white timber-framed cottages interspersed with attractive eighteenth and nineteenth century farmsteads and red brick cottages as well as some scattered post-1930 houses.
Crowle is 3 miles from Junction 6 of the M5, which may account for its popularity as a base for those wishing to work elsewhere. It has some 400 dwellings, and a population of about 1000. Of Crowle's principal facilities, the Church, the Church of England First School, Parish Hall, playing field and playground are all in Crowle itself, whilst the Post Office and The Old Chequers public house are located in Crowle Green.
Socially, Crowle supports a substantial number of clubs, societies and activities, many of which have been in existence for a number of years. Some have gained new prominence or come into being following the opening of the new hall (2000) and playing field (2002).
Description by Ian Rodgers
Share this page