Pembroke Castle is one of the largest castles in Wales. It was not a royal castle but the possession of a private lord - his residence and the administrative centre of his territories. The Castle occupies a strong position high on a ridge between two tidal inlets.
Its fortifications were extended throughout its history and it displays stonework from many periods. The dominant feature of Pembroke Castle is the massive round Keep, built soon after 1200. Its walls are 19 feet thick at the base and the Keep rises to 75 feet in height.
Inside the Castle there are tableaux depicting mediaeval life within its walls including copies of costumes, furniture, tableware, wall hangings and other artefacts found locally. Displays interpreting the history of the site from other periods are also to be found amongst its many complete towers. As the birthplace of Henry VII, Pembroke can be seen as a pivotal place in history. Henry was the founder of the Tudor dynasty, and the Crown of England has remained ever since in the line of his heirs.
General Information:
Pre-booked school visits
Visitors with disabilities may experience some difficulties
Setting-down point at entrance and public parking close-by with disabled spaces
Wheelchair users with assistance and those with limited mobility will be able to access the site at groundfloor level
Shop
Brass Rubbing Centre
Share this article




More Pictures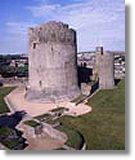 Directions
Pembroke Castle Postcode for SatNav: SA71 4LA
Contact
Tel:

+44 (0)1646 681 510.

Email:

Web: