At the 1880 Annual General Meeting of the Paisley Philosophical Institution, it was proposed that the Society should purchase an astronomical telescope. Mr Thomas Coats of Ferguslie, then a member of the council, offered to relieve the Institution of the expenses incurred, and with the advice of Professor Grant of
Glasgow
University, a 5 inch equatorial telescope by Grant of
York
was obtained. Mr Coats also provided a substantial building to house the instrument on the present Oakshaw site.
Besides the telescope a variety of other equipment was installed, including a transit instrument, sidereal clocks, specialised eyepieces for the telescope and other items. By 1898 the Observatory had more equipment, including a10 inch Grubb telescope and new premises. In 1884 the weather recording activities, which had been carried on for many years at Ferguslie House, were transferred to the Observatory where they have continued without break ever since.
The Observatory is unsuitable for wheelchair access.
Share this article




More Pictures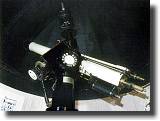 Directions
Coats Observatory Postcode for SatNav: PA1 2BA
Contact
Tel:

+44 (0) 141 889 3151

Email: