Things to do in Gleneagles, Perth and Kinross
Gleneagles Estate (c) Simon Ledingham via Wikimedia Commons
The resort destination of Gleneagles is known as the "Gateway to Northern Scotland".
Lying an hour north of Edinburgh, it is where the lowland plains meet the Scottish Highlands and is best known for its luxury hotel and world-class golf courses.
Gleneagles probably got its name from "eaglais", which would have referred to the church and well of Saint Mungo.
In Scottish Gaelic, "Gleann Eagas" is the glen or valley which connects with Glen Devon to make a pass through the Ochil Hills.
The main Gleneagles House is a 17th-century building on the north side of the village.
It was built on the site of a 16th-century tower house constructed by the Haldane family and known as Gleneagle Castle.
The driveway to the house is lined with an avenue of lime trees which were planted in commemoration of the naval battle between the British and Dutch navies in 1797, known as the Battle of Camperdown.
In 1924, the Caledonian Railway Company opened the grand Gleneagles Hotel which even had its own railway station.
By the 1930s it had a reputation as a playground for entertainment with the ultimate in luxury.
Golf and game shooting became part of the social calendar for aristocrats, following the London social season, the Regatta at Cowes and polo matches at Deauville.
Initially, the hotel only operated in the summer, but after an £11 million refit completed in 1986 it opened year-round.
In 1993, the opening of the Jack Nicklaus PGA Centenary Course made Gleneagles one of the finest venues for golfers in the world.
In 2005, Gleneagles Hotel was used to host the G8 conference and the massive security led to it being dubbed "the most fortified golf course in Scotland".
Present Day Gleneagles
Gleneagles Hotel, the "Palace in the Glens", continues as one of the top luxury hotels in the world with a restored elegant interior and sumptuous public areas and guest rooms.
The hotel has achieved the AA Five Red Stars, the ultimate accolade, every year since 1986 along with many other top awards in the hotel and leisure industry.
One of the four restaurants holds the coveted two Michelin Stars.
The Gleneagles railway station which serves the area is on the railway line which runs between Perth and Stirling.
Things to Do in Gleneagles
The 850-acre Gleneagles estate is a traditional base for enjoying golf, grouse shooting, fishing, falconry, horse riding, off-road driving and other Highland pursuits.
Gleneagles Hotel offers excellent golfing at its three championship courses: the Centenary Course, the King's Course and the Queen's Course.
Close to the Gleneagles Estate is a 250-acre reservoir famous for its fly fishing for trout at the Frandy Fishery.
The Ochil Hills are well known for their hill walking opportunities with beautiful scenery and plenty of wildlife.
Share this page




Images of Gleneagles
9th hole on Kings Course at Gleneagles.(c) Keith Duff via Wikimedia Commons
Gleneagles Hotel (c) Victoria Winters via Flickr
Gleneagles Hotel Footpath from Golf Course Club House up to Gleneagles Hotel (c) Carol Wyatt via Wikimedia Commons
Gleneagles Station from the South (c) Derek Ferris via Wikimedia Commons
Laich Loch Ornamental loch beside entrance to Gleneagles Hotel and golf courses (c) James Allan via Wikimedia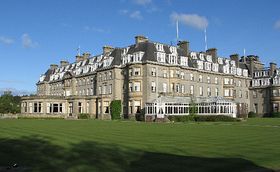 Gleneagles Hotel and grounds (c) Simon Leadingham via Wikimedia