Autumn Photo Gallery
Autumn is a beautiful time of year in Britain. Enjoy sunny days that highlight the spectacle of the multi-coloured leaves, and misty mornings that lend romance to the landscape.
We hope you enjoy our Autumn Gallery.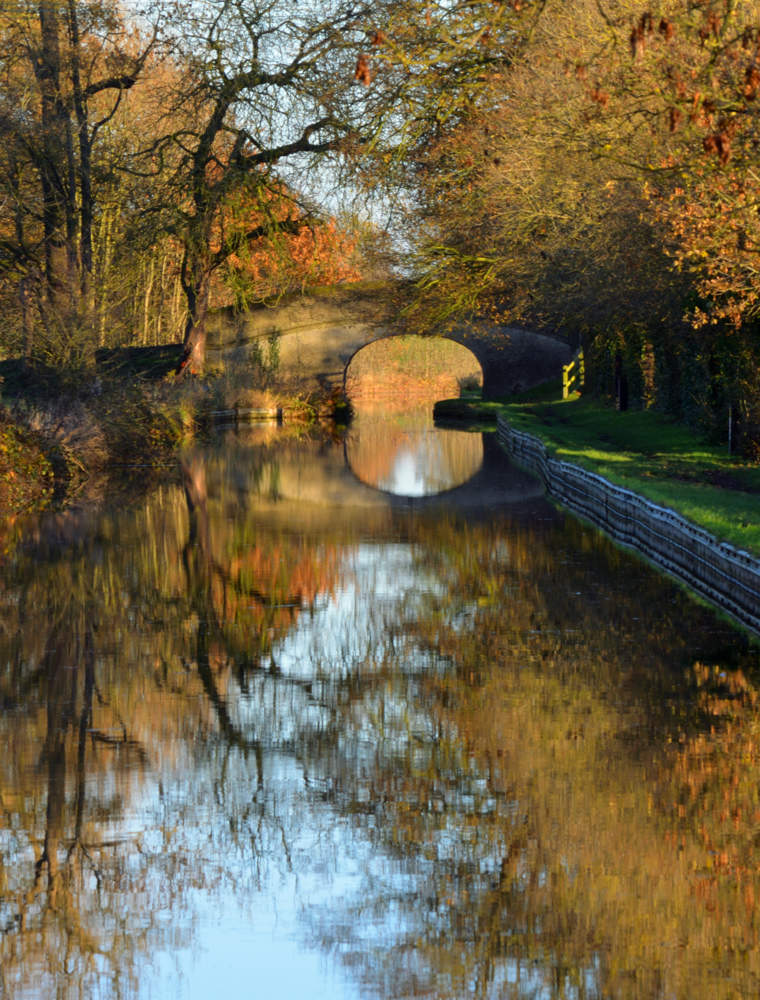 Autumn Leaves from the Shropshire Union Canal. © harlequin9 / Adobe Stock
Construction of the Shropshire Union Canal started in the 1770s and the final section was completed in 1835. It stretches over 66 miles with 47 locks and links Chester to the Potteries.
With many miles between towns, there's lots of beautiful countryside to enjoy.
---
Autumn at Lerryn in Cornwall © Helen Hotson / Adobe Stock
Lerryn is a picturesque Cornish village with an inn that dates back to the 16th century.
The village is divided by a tidal creek. Stepping stones appear at low tide, so you can cross without using the bridge.
---
Bodnant Garden in Autumn © Gail Johnson / Adobe Stock
Bodnant Garden in Wales is a wonderful place to visit at any time of year, but is perhaps at its most spectacular in Autumn.
In the care of the National Trust since 1949, the garden is also famous for its laburnum arch built in 1880, and its unique collection of rhododendrons.
---
Red deer stag on a misty morning © Roman / Adobe Stock
Red deer are Britain's largest native land mammals and are mainly found in Scotland.
Autumn is the rutting season when stags compete with clashes of their magnificent antlers and loud roars that echo from the hillsides.
---
Little Langdale in the Lake District © Anthony Brown / Adobe Stock
The Lake District is one of Britain's most beautiful and most popular holiday destinations.
The Little Langdale valley is home to a hamlet and a tarn (lake) of the same name.
---
Beautiful sunrise at the Quiraing, Skye © ReubenTeo / Adobe Stock
The Quiraing in the North of the Isle of Skye is one of the most spectacular landscapes in the whole of Scotland and a popular route for walkers to enjoy.
---
Autumn Colours © S.R.Miller / Adobe Stock
Britain has many ancient woodlands containing a variety of species of native deciduous trees.
Beech, silver birch, ash, oak and lime are just a few to look out for, each with their own distinctive autumn colours.
---
Loch Achtriochtan, Glencoe, Scotland © macrossphoto /Adobe Stock
Glencoe has been voted Scotland's most romantic glen, and it isn't hard to see why.
Autumn is a great time to visit and enjoy the wonderful views and golden colours of the heather.
---
Misty Woodland © Helen Hotson / Adobe Stock
Britain's woodlands are a wonderful place to visit in the autumn as the leaves turn to golden shades.
You can forage for blackberries or hazelnuts, find beautiful (but often poisonous) fungi, and look out for wildlife including squirrels, deer, badgers or foxes.
---
Ashridge Woods © SRSImages / Adobe Stock
Ashridge Woods in Hertfordshire is a wonderful place to kick through the leaves and enjoy an autumn walk.
Part of the Ashridge Estate under the care of the National Trust, Ashridge Woods has been designated a Site of Special Scientific Interest, and forms part of an Area of Outstanding Natural Beauty - so it's a very special place.

---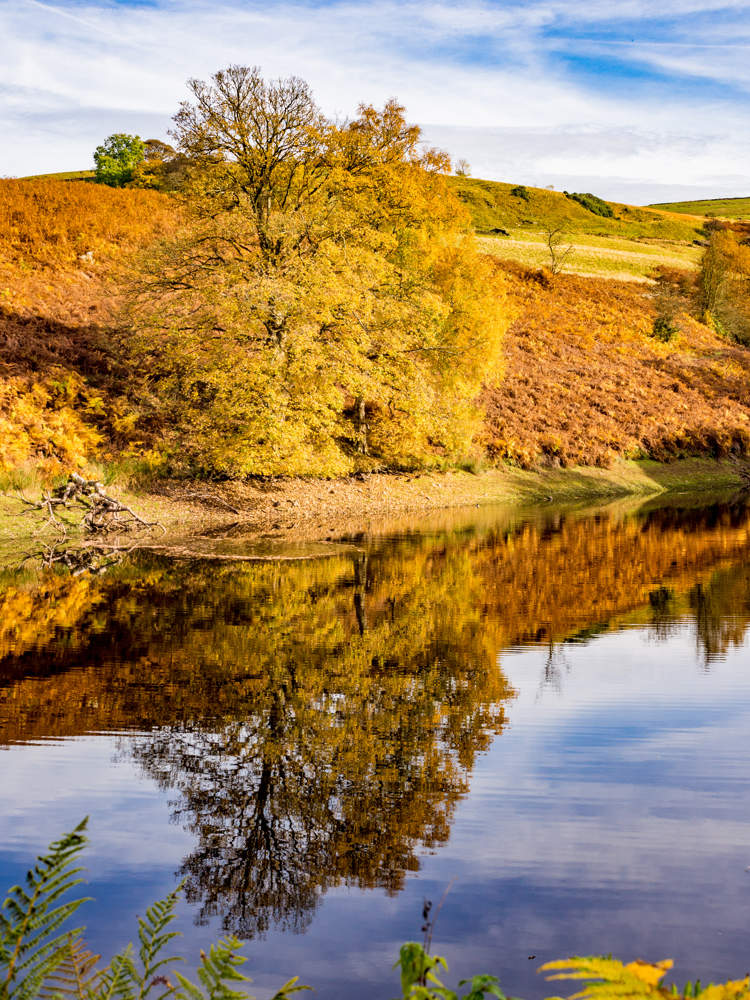 Autumn colours on Fernilee Reservoir © Sue Burton / Adobe Stock
Fernilee Reservoir is located in the Goyt Valley in the Peak District National Park.
The reservoir provides drinking water to Stockport. There is an old gunpowder factory submerged beneath the waters.
---
Woodland in Autumn © gilbertdestoke / Adobe Stock
This bench looks like a wonderful place for an autumn picnic!
Perhaps pumpkin soup to start, some fortifying pies, and definitely some seasonal blackberries.
---
Beautiful passageway in Cambridge © chrisdorney / Adobe Stock
This beautiful archway, framed by autumn leaves, was spotted in Cambridge.
Doesn't it make you wonder about what's on the other side? A beautiful secret garden perhaps, designed for thought and contemplation.
---
Conwy Castle © Tomas Marek / Adobe Stock
Autumn is a great time to visit Conwy Castle in Wales - one of the best-preserved medieval castles in Europe.
You can walk right round the castle walls and enjoy the autumnal views over the town, all the way to Snowdonia in the distance.
---
Misty Forest Path In Autumn © Adam / Adobe Stock
English poet John Keats called autumn the "Season of mists and mellow fruitfulness"
Looking at this beautiful woodland, it's easy to see what he meant.
---
Skiddaw and Derwentwater in Autumn © S.R.Miller / Adobe Stock
The Lake District is beautiful at any time of year, but autumn might be my favourite time to visit:
The summer crowds have eased, there's a good chance of sunny autumn days, and the trees look magnificent reflected in the water.
---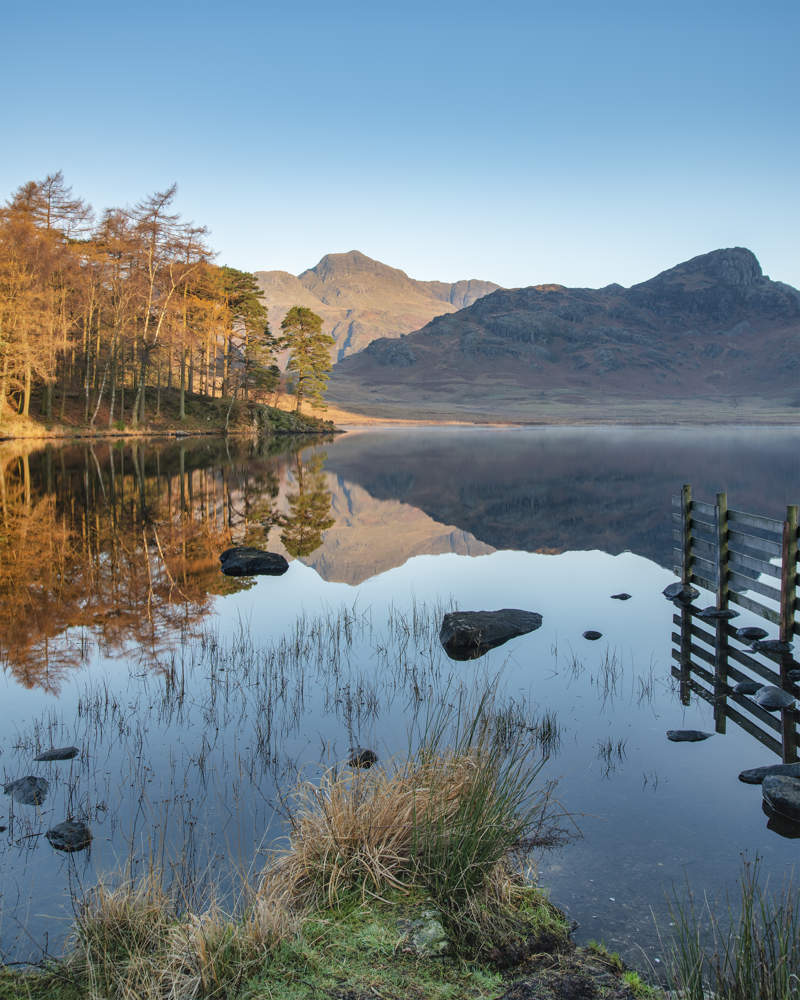 Beautiful autumn sunrise over Blea Tarn © veneratio / Adobe Stock
To enjoy this wonderful view, follow the Blea Tarn Trail, less than two miles of easy walking from the National Trust car park.
One of the Lake District's most accessible tarns, is also one of the most beautiful.
---
Buachialle Etive Mor, Glen Etive © Severas / Adobe Stock
The Glen Etive road on the way to Glencoe takes you through 12 miles of wonderful highland scenery like this.
This area featured as a location for the Bond movie Skyfall, which is fitting, as Ian Fleming, the creator of James Bond had a lodge in the area.
---
Fairy Glen Gorge, Wales © Manuel / Adobe Stock
Fairy Glen is a scenic gorge on the Conwy River in Snowdonia National Park in Wales. The glen can be found near Beaver bridge on the outskirts of Betws y Coed.
This autumn photograph captures the magic of the gorge perfectly.
---
Strawberry Bank Dundee © Craig / Adobe Stock
The old cobbled lane of Strawberry Bank in Dundee looks magnificent in this photograph, decorated with fire-red leaves from the beech tree.