Things to do in Chichester, West Sussex
Chichester is the County town of West Sussex and one of the UK's finest smaller Cathedral cities.
Its plan and walls date from the Roman occupation and it has splendid examples of late 18th and early 19th century architecture.
Chichester Cathedral is Norman, with Gothic additions.
It contains a fine piece of Roman mosaic flooring, two impressive stone reliefs from the 12th century showing Christ visiting the house of Mary at Bethany and the raising of Lazarus.
The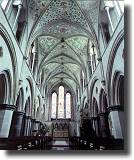 Cathedral has an outstanding collection of 20th-century art, including John Piper's tapestry depicting the Holy Trinity, Marc Chagall's stained glass window and Graham Sutherland's painting 'Noli Me Tangere'.
The Cathedral choir can be heard at Evensong, and on Sundays, and during the Chichester Festival in July.
The Cathedral hosts a variety of musical events, from candlelit classical concerts to jazz.
Pallant House Gallery is a must to visit- this beautiful Queen Anne townhouse holds several exciting
and important exhibitions every year, as well as housing one of the largest collections of 20th-century art in Britain.
Works by Sutherland, Moore, Picasso, Nash, Piper and Matisse can be found within rooms faithfully restored to reflect different periods in the house's history.
Chichester District Museum - Is rich in archaeology and local history and at The Guildhall Museum you can see some well preserved medieval frescos.
Chichester Festival Theatre - For over thirty years this internationally
renowned theatre has been at the forefront of British theatrical life attracting an impressive range of actors and directors.
Set in glorious parkland, the complex consists of two auditoria, an elegant restaurant and bars, as well as a private clubroom for its members.
The theatre's outstanding summer festival of drama, comedies and musicals with all-star casts runs from May-October and remains in a class of its own.
Chichester Harbour, is a few miles to the
South of the city and an Area of Outstanding Natural Beauty.
Eleven square miles of inter-tidal waters, provide a base for professional fishermen and facilities for sailing and angling.
To the east of Chichester, Boxgrove Priory is the county's most important Early English church.
Founded in 1117, it has a superb ceiling, painted in the 1520s and a magnificent free-standing chantry chapel.
Each June, the Priory hosts international concerts, with other recitals throughout the year.
Share this page