Things to do in Aylesbury, Buckinghamshire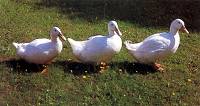 Aylesbury, the county town of Buckinghamshire, is a lively market town steeped in history.
Located at the foot of the Chiltern Hills and at the heart of the rich agricultural Vale of Aylesbury.
The town was a focal point in the English Civil War in the 17th century.
As the popularity of the famous Aylesbury Duck grew in the 19th Century, the town's fat stock markets attracted visitors from far and wide.
If you would
like to see the real Aylesbury Ducks then why not visit Oak Farm Rare Breeds Park.
Nowadays, the award-winning Roald Dahl children's Gallery, and the world-famous Stoke Mandeville Hospital and Guttmann Sports Centre help ensure that Aylesbury is still internationally renowned.
The market, a part of Aylesbury life since the 13th century, is complemented by modern shopping areas.
The charming conservation area around St. Mary's Church lies in sleepy lanes and cottages above the town.
Around
every corner is a tale - Henry VIII reputedly wooed Anne Boleyn at the King's Head, Roald Dahl invented his classic children's tales in the Aylesbury area, and his imagination is now celebrated in the town's County Museum.
In the cobbled market square, stands the imposing figure of John Hampden - a local hero and key figure in the defeat of the Royalists in the English Civil War.
Market days are Wednesday, Friday and Saturday.
Share this page




Video