Things to do in Norfolk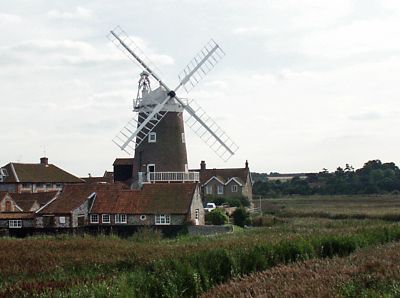 Norfolk is the largest but least populated County in East Anglia, covering around 3,337 sq. miles / 5,371 sq. km., encompassing The Broads National Park, a unique part of England visited by thousands of visitors each year.
Much of Norfolk's coastline is designated as An Area of Outstanding Natural Beauty and the County contains 20 National and 10 Local Nature Reserves.
Sandringham is the Norfolk country home of the Royal family and is open to the public during summer months.
Broadland
Aylsham,is an attractive market town, a short drive from Norwich. Just outside Aylsham is Blickling Hall, one of Norfolk's finest stately homes. The villages of Reedham, Reepham and Wroxham are all worth visiting.
The Broadland region is situated between Norwich and the coast and boasts over 124 miles / 200km. of navigable waterways. There are historic market towns and villages to explore, the tranquil countryside offers green fields, river valleys and fen land.
Broadland supports a wide variety of flora and fauna, for naturalists this is a destination not to miss.
North Norfolk
North Norfolk encompasses some 400 sq. miles / 643 km., forming part of the largest coastal nature reserve in England and Wales. The coastline stretches over 40 miles with long sandy beaches, crumbling cliffs, flint pebble banks and salt marshes.
One of the most famous paths in Britain The Peddars Way and Norfolk Coast Path can be walked in this area of Norfolk.
The north Norfolk villages of Burnham Market, Blakeney and Cley-next-the Sea, offer stylish shops and award winning restaurants.
The seaside towns of Cromer and Sheringham are popular for holidays. Blakeney, Cley and Wells are good centres for birdwatchers and naturalists.
Holt is a small town with several Georgian buildings, interesting for shopping or browsing the art and crafts galleries.
The village of Walsingham is famous as a place of pilgrimage for people of many faiths, worth a visit to see the religious buildings in the village and enjoy its peaceful atmosphere.
Breckland
The heart of Norfolk
known as Breckland has an amazing landscape, with wide skies, open countryside and home to Thetford Forest, which shelters a variety of animal and plant life.
Visit Gressenhall Farm and Workhouse to learn about rural Norfolk.
The Breckland area boasts the following interesting towns:
Derham - a busy market town, with a good shopping centre.



Swaffham - a historic town, with an elegant market place, which holds a weekly market on Saturdays, and a lively public auction.



Thetford - the largest town in the Breckland area. It was the capital of the Saxon kingdom of East Anglia, and birthplace of the writer Thomas Paine, author of "The Rights of Man".



Watton - in the heart of Breckland is a good centre for exploring the area. To the south of the town is Wayland Wood, where the story "Babes in the Wood" illustrated on the towns sign is reputed to have taken place, legend tells that the wail of the doomed children can still be heard at midnight.



Norwich
, the county town of Norfolk is a delight to visit and makes an ideal base from which to explore the Fens, East Anglia and the Norfolk Broads.
West Norfolk
West Norfolk Tourist Information can be found in King's Lynn, Hunstanton, Downham Market, and Burnham. Much of the coastline of West Norfolk is designated as an Area of Outstanding Natural Beauty, there are several Nature reserves, such as RSPB Reserve at Titchwell. Families will enjoy a visit to Snettisham Park, and find lots to see and do.
South Norfolk
Tourist Information in the south of the County can be found in Diss, Wymondham and Loddon. South Norfolk stretches from the south of Norwich to the Suffolk border, including the peaceful Waveney Valley. There are many little villages with thatched cottages, welcoming pubs and historic churches for you to explore. South Norfolk has over 50 conservation areas, protected for future generations.
Days out in Norfolk
Places to Visit in Norfolk