Things to do in Greater London
Greater London is defined as a County.
It includes the City of Westminster - the Nation's centre of government, and the City of London, often referred to as "the City" or "the Square Mile" - which is one of the world's main financial centres.
Greater London encompasses many areas, towns, villages and open countryside.
It has a history stretching back over 2,000 years, making it the most fascinating and most visited area in Britain.
The region is often thought of as inner and outer London, but generally the entire conurbation is known as London.
London is divided north and south by the River Thames.
You can find tourist information centres at Heathrow Airport, 1 Regent Street, Piccadilly Circus, Victoria Station and Waterloo Visitor Centre.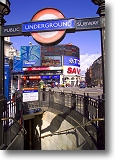 World Heritage Sites
The conurbation of Greater London includes four World Heritage sites, The Houses of Parliament or as it is otherwise known, The Palace of Westminster; The Tower of London; Maritime Greenwich and Royal Botanic Gardens Kew.
There are over 200 Museums and Galleries to explore, 17 of which are National Museums.
London Parks
First time visitors to this huge metropolis might expect to find few parks and green spaces, but the reverse is true, over 30% of London is made up of parks and gardens, including the eight Royal Parks.
The Regent's Park has parkland, formal gardens and a large boating lake. It's also home to the London Zoo.
Kensington Gardens has beautiful tree lined avenues and is home to Kensington Palace, the Peter Pan statue and the Princess Diana Memorial Fountain.
St James's Park in the heart of London is often used for ceremonial and state occasions.

The Green Park has magnificent mature trees and open grassland, an oasis amid the busy city.

Bush Park is lesser known. It contains the imposing Diana fountain, tree lined avenues, woodland gardens and glades, a haven for wildlife.

Richmond Park is the largest Royal Park in London, with expanses of rolling grassland, a lake and the national collections of azaleas and rhododendrons. Red and fallow deer can often be seen here, creating a unique countryside atmosphere.

Greenwich Park contains large, formal parklands and a 'wilderness' area enclosed for deer. Within the park are historic buildings including the Old Royal Observatory, the National Maritime Museum and the Queen's House.


Hyde Park is host to many outdoor events; it is famous for being home to 'Speakers Corner' a popular platform for free speech, where on Sundays speakers expound enthusiastically on their particular subject.
Greater London Tourist Information centres can offer many guides and maps to help you plan your visit. A map of the London underground (tube) is essential. They also have information on trails to follow, cruises along the River Thames, open top bus tours and walking tours.
Attractions
Many of the main attractions, restaurants and theatres are situated in central London, within walking distance of each other. Walking is a great way to see the city - walk the streets of London and you walk through history.
Everyone has their favourites, but some of the most popular attractions for first time visitors to central London are Westminster Abbey, Big Ben and the Houses of Parliament. Buckingham Palace, the Queen's Gallery and the Royal Mews.
The British Museum, the National Gallery and the Victoria and Albert Museum. The Tower of London, Tower Bridge Exhibition, St Paul's Cathedral and the Museum of London.
For those with a head for heights, the London Eye and The Shard, one of the tallest buildings in Europe, offer amazing views of the capital. The list of attractions is endless, encouraging visitors to return many times to see more and more of fascinating London.
Shopping and Leisure
Greater London is not only famous for its history and culture; it is also reknowned for its shops, restaurants, entertainments and fun. It is estimated there are over 40,000 shops, 80 markets, 10 farmer's markets, countless restaurants offering every type of cuisine, pubs and nightclubs and a great variety of theatres, cinemas, sport and leisure facilities and even city farms. In short whatever you are looking for you will be sure to find it in London.
London Boroughs of Special Interest
Barnet - is home to the Royal Air Force Museum London, Church Farmhouse Museum and in Finchley is a branch of the Jewish Museum.
Brent - is home to the world famous Wembley Stadium, home of English football and Wembley Arena, one of Britain's largest music venues.
Bromley - Host to the annual Biggin Hill Air Fair, held in June. Crystal Palace Park boasts London's largest Maze. Chislehurst Caves, offer tours of this underground labyrinth. In Orpington is Bromley Museum and Crofton Roman Villa.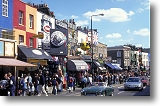 Camden - The Locks of Regent's Canal offer a wide selection of shops and boutiques. You'll also find Regent's Park and London Zoo here, as well as the Jewish Museum.
Croydon - has one of the best shopping centres outside the west end of London and is home to the oldest market in Britain - Surrey Street market. This ancient market has traded since the late 13th century.
Enfield - is home of Greater London's only specialist College of Horticulture, Capel Manor Gardens, with over 30 acres to explore.
Greenwich - situated on the south bank of the Thames is a maritime borough home to the National Maritime Museum and to the Old Royal Observatory, where a brass strip on the path marks the zero meridian of longitude. Stand with one foot either side and you are in both the Western and Eastern hemisphere.
Located at Woolwich is the impressive Thames Barrier, built to stop the River Thames flooding.
Hackney - is where you can visit Sutton House, the oldest house in the east end. Hackney City Farm and Geffrye Museum, the only museum in Britain specialising in domestic interiors and furniture from 1600 to the present day. Hackney is also home of the famous Petticoat Lane and Brick Lane markets.
Hammersmith and Fulham - where crowds gather each spring to watch the Oxford and Cambridge Boat Race. It's also home of the Museum of Fulham Palace.
Harrow - Well known as the home of one of Britain's finest public schools, where tours are available during term time. Also worth a visit is Harrow Heritage Museum, a medieval estate with a moated manor house.
Hillingdon - Here you will find Colne Valley Regional Park, with opportunities for walking, Cycling, Horse Riding, Angling, Water Sports and Golf.
Hounslow - has fine historic houses including Osterley Park and Boston Manor House. In the High Street, Brentford, is the Musical Museum and in Chiswick Hogarth's House.
Kensington and Chelsea - Encompass the famous shopping centres of central London as well as many famous museums such as Apsley House, Churchill Museum and Cabinet War Rooms, the Natural History Museum, the Science Museum and The Victoria and Albert Museum. Lesser known, but well worth visiting are Linley Sambourne House and Leighton House Art Gallery. The borough also encompasses Notting Hill,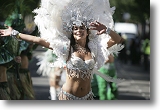 site of Portobello Market and the famous annual Notting Hill Carnival, held in August.
Kingston upon Thames - The heritage of this historic borough is displayed at Kingston Museum.
Lambeth - is home to Lambeth Palace, home of the Archbishop of Canterbury and Lambeth Palace Library. The Imperial War Museum, the Museum of Garden History. In Kennington is the Oval Cricket Ground.
Lewisham - In Forest Hill, the Horniman Museum, is well worth a visit for all ages.
Merton - encompasses Wimbledon, home of the Lawn Tennis Championships held here annually.
Newham - is situated within London's historic docklands, the Thames Barrier Park adjacent to the Thames Flood Prevention Barrier, is London's first post-war public park. Newham is home to the Museum of London and Newham City Farm and Visitor Centre, a great place for a day out with children.
Richmond-Upon-Thames - encompasses Richmond Park, Kew Gardens, Hampton Court Palace and Ham House. Within the borough is Twickenham Stadium the home of English Rugby.
Southwark - is home to Tate Modern and Shakespeare's Globe Theatre. Borough Market is a popular venue for good food shopping.
Check out our other articles about London:
Romantic Things to do in London
Days out in Greater London
Places to Visit in Greater London